The Cast




---
As you can very well see, this looks...well awesome! Thank you IT classes and Dreamweaver CSS 5.5! The cast site looks like this but what about the other pages you ask? Getting there, trust me, I have a lot on my plate right now, school included, so this will take some time. I am just learning how to make use of div tags, classes (independent and dependent), id's and how to edit all of them, so the other sites may also look newer, but better. What can I say except that this will be a really long project, but worth the effort!
---
Stats:
Age: 205
Sex: Female
Race: Half-Elf
Inherit Power: Animal Empath
Innate Power: Unknown
Deru Cria is the main character of this story. She is a half-elf which usually means everyone does not like her, based of course, mostly, on her race. The other half of that hatred comes from the fact that she is sarcastic, usually in a sour mood, and can beat the crap out of just about anyone. She enjoys listening to Metal, usually of the 90's variety out of the last two centuries ago. She dislikes punks that think they can get away with anything, pop music, people that mistreat animals, and the color pink. She is no girly-girl by anyones standards, and will be sure to tell you so, via fist-to-face if you push the issue. Currently, she has been discovered as one of the first Triune's, an advanced and enhanced individual that can use a very ancient power source that is currently unrecognizable, and cannot be categorized by any of the current magic wielders and technology that is rampant in the world.
---
Stats:
Age: 220
Sex: Female
Race: Elf
Inherit Power: Able to recognize and view any and all aura's; Immense Healing and White Magic abilities.
Innate Power: Unknown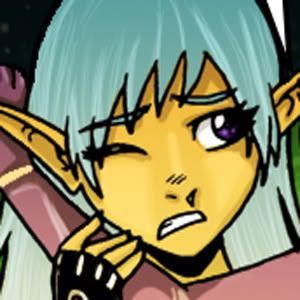 Susanne Soli is another main character of this story. Vastly different from Deru, Susanne enjoys pop-like music, some light punk, and is usually perky most of the time. She's a bit different from other Elves, though, in that she doesn't hate anyone, she just likes or dislikes them based on their merits. She enjoys jogging or walking by herself, a good romance novel, and the color pink. See? This friendship between her and Deru is already off to a rocky start, so this will be a fun journey for them. As of Issue 3, Susanne has been captured by someone identifying herself as Ikibi Hakagi, who has an apparent grudge against Deru, and will use anyone she loves, likes, or even associates with to grab her attention. Luckily, Deru is on her way to save her, hoping it isn't too late.
---
Stats:
Age: 17
Sex: Male
Race: Human
Inherit Power: Use of Black Magic (It is unknown to what extent he can wield it).
Innate Power: Unknown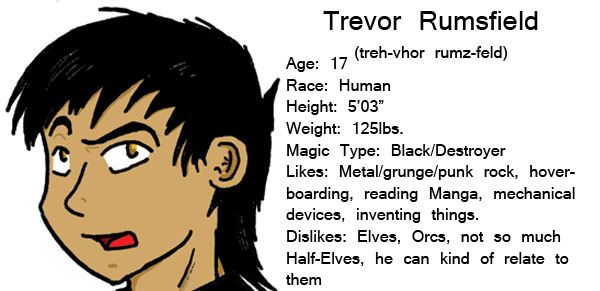 Trevor Rumsfield has yet to appear in the comic, so not much is known about him at this time. More to come, as he appears later.
---
Stats:
Age: 220
Sex: Male
Race: Elf
Inherit Power: Unknown
Innate Power: Unknown
Samuel Ellenguard is Susanne's friend, but only barely. A bit moody, he does not like Half-Elves, and will sometimes go out of his way to make sure they know that. Samuel is a proud person, sometimes too proud, smart, athletic, and above all: an asshole. He pushes people away, those that do not take the time to know him at least, and sometimes abuses others for no reason other than just to do so. Something tells me he has a lot of inner pain, but a lot of outer pain to go with it. Whether it is well-known, or not, Samuel's father was in an accident some fifty years before the beginning of this story. A same fate was suffered by Deru; could the two be connected somehow? Mayyyyybeeee....
---
Take Me to the Top!